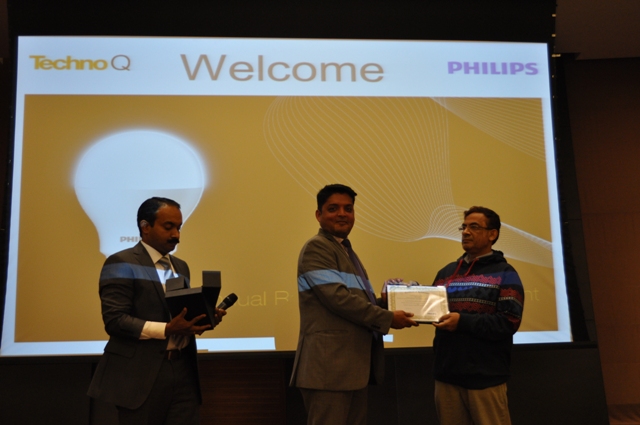 Techno Q and a Philips channel partner for Qatar, recently hosted its fourth annual Retail Partners Meet Event in cooperation with Philips honoring our local partner wholesalers and organized retail – hypermarket chains that most actively supported the company's commitment to Philips lighting brand in 2013.
Officials from Techno Q, the leading regional systems integrator and Philips announced its 2013 top performing wholesale and hypermarket partners, highlighting the outstanding achievements and commitment from the leading retail outlets in the areas of sales turnover, product mix, and best product display.
"I want to personally congratulate our retail partners for their commitment and great performance achieved in 2013. Techno Q and Philips are both committed to enabling the long-term success of our local retail partners. Their achievements demonstrate how support and differentiation of Philips lighting products can create greater business opportunity for retailers and deliver value to our customers." commented Abdulla Alansari, Techno Q executive director.
Nearly 170 top wholesale and hypermarket representatives attended the annual event which recognizes and celebrates key contributors who have demonstrated partner excellence.
Speaking at the event, Jaya Chandran Manoj, Trade Channel Leader- Middle East for Philips Lighting Middle East & Turkey said: "for Philips, the primary drivers of growth are innovation and delivering value to the customer."
He added that, "the collective capabilities of the wholesale outlets and hypermarkets in Techno Q's retail partner network offered a powerful competitive advantage." During his presentation he highlighted the contributions from a number of partners helping Philips lead across Qatar retail outlets.
"I congratulate all of our award winners, especially those who were recognized with '1st place achievement award for highest sales turnover and best product mix,'" said Jaikrishna Pillai, Techno Q Segment Manager for Retail Lighting. "Our electrical wholesale and organized retail partners are a critical part of our success."
In addition to the "1st place achievement award for 'highest sales turnover and best product mix', which was presented to Ideal Trading Co. W.L.L. in the 'electrical wholesale category' and to Carrefour, MAF Hypermarkets, Qatar W.L.L. in the 'organized retail category', the following companies received achievement awards for consistent high performance: Mubarak Bin Ayash Mansoori Trading Est. and El-Shameel Group Ltd. (Barwa branch) – tied for 2nd place and Al-Jayyed Electrical Equipment Center ranking in 3rd place for "highest sales turnover and best product mix" in the 'electrical wholesale category'. In the 'organised retail – hypermarket category' the achievement awards for the 2nd and 3rd place were presented to Lulu Hypermarket Trading Co. W.L.L. and Family Food Center W.L.L. respectively. Lulu Hypermarket – Airport branch was recognized as the hypermarket branch with the 'best shelf display'.
"A close strategic partnership with our core retail partners is the key to create value through innovation" said, Gaurav Yagnik, Philips Lighting Key Account Manager for Middle East & Turkey.This reinforces the relationship on a strategic level and assures Philips' leading position in supply performance in the Qatar market," he added.