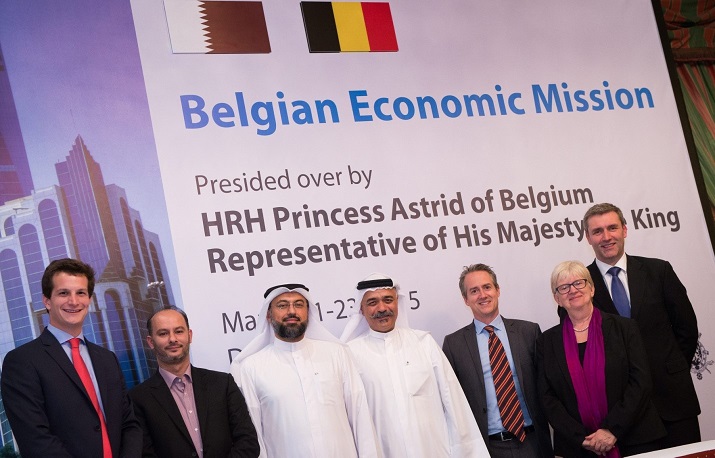 Techno Q representatives recently attended the Official Signing Ceremony which was held at the Ritz-Carlton Hotel as part of the Belgian Economic Mission's visit to Qatar. HRH Princess Astrid, the representative of King Philippe of Belgium headed the Mission which included numerous Belgian ministers who were also in attendance for the event.
At the ceremony Techno Q signed an exclusive partnership agreement for the Gulf region with a Belgian technology company Brandfirst. Techno Q has previously collaborated with Brandfirst on two major projects in Qatar, most recently delivering an ultramodern gesture-based interactive wall located in Qatar National Convention Centre (QNCC).
The solution created for QNCC provides visitors with high-tech applications to discover the QNCC building and its facilities in a fun and educational way. The interactive gesture wall was created to attract people's attention inviting them to learn more about the famous venue by using the interactive features of the 63m² interactive zone in front of the 27-screen video wall.
Commenting on the previous collaboration between the two companies, Abdulla Alansari, Techno Q Executive Director, said that the partnership has allowed Techno Q to deliver the most innovative and cutting edge interactive media technologies to projects in Qatar. "Our collaboration with Brandfirst has been a thriving venture from the very beginning. It has allowed Techno Q be the first technology provider to deliver to our clients such inspiring user experiences on digital interactive technology platforms and we look forward to bringing the newest and the most innovative intuitive applications in our upcoming projects here in Qatar and the Gulf region," he noted.
Representatives of twelve other Qatari and Belgian companies also attended the official signing of partnerships and co-operation agreements between the businesses of the two countries. The Master of Ceremony, Benjamin Sturtewagen from the Embassy of Belgium delivered the opening remarks and invited the respective signatories for the signatures while a brief introduction about the companies and the nature of the agreement that was being signed was provided before each signature took place.