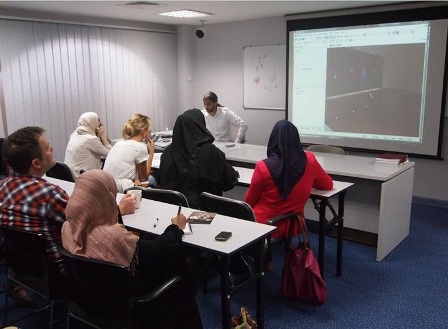 Techno Q continues to inspire future generations across the fields of both Design and Engineering, having recently conducted a training session for Interior Design students from the Virginia Commonwealth University Qatar (VCU).
As part of Techno Q's continued commitment to its Community Outreach Activities, this is the fourth year the company has conducted this training course which provides students with a basic introduction to Lighting Design using Dialux, one of the most advanced and widely used software programmes within the Light Planning industry. The company has provided similar training sessions for other local universities in the past. Amongst others, VCU students were taught the basics of Lighting Dimensions, Photometric Calculation and Design Rendering, all of which are regularly used by industry professionals.
The training aims to provide technical knowledge to students through these activities and facilitate an exchange of information. In addition, it aims to strengthen ties between industry professionals and higher education students. Mr. Nedal Hmaidan, Techno Q's Lighting Designer, who conducted the training, commented "Techno Q has a full in-house design team who are well adept on various software programmes including Dialux, Relux, 3D Max and more. Offering intelligent design solutions, our in-house team of experienced design engineers carries out technical and innovative design for all system solutions offered by Techno Q. We hope that through this training, students will learn to take advantage of the technological advancement in developing cutting edge designs on their future projects."
Furthermore, the company hopes that through these initiatives; awareness, accessibility and appreciation to technology will be enhanced not only in Qatar but the whole region. Techno Q envisions these training sessions to be available to students as well as a means of university-community engagement in the future. Due to these kinds of partnerships between local businesses and academic institutions, university students can be assured that the knowledge base of local businesses and industry professionals is accessible to the academic community.