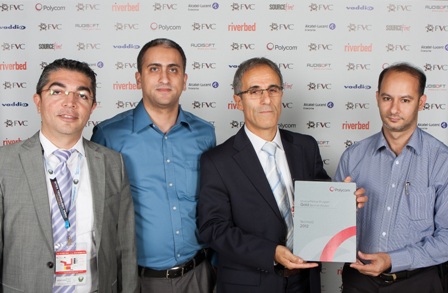 Earlier this month Techno Q has been named by Polycom, Inc., the global leader in open, standards-based unified communications (UC), as a Gold Level Polycom Choice Partner for Qatar.
This is the first time that Techno Q was given this distinct merit in conjunction with FVC, Polycom's Value Added Distributor in the region. The Gold Level Designation indicates that Techno Q made the appropriate investment in its technical expertise and go-to-market capabilities required to address today's complex unified communication needs of its customers. Partners are also required to have met the program's exacting standards, including achieving and maintaining specialization in multiple areas. With this designation, consumers can be confident that Tehcno Q has the expertise to handle and meet all their UC project needs and expectations. Polycom provides open, standards-based UC solutions for telepresence, video, and voice powered by the Polycom RealPresence Platform. Polycom RealPresence video solutions interoperate with the broadest range of business, mobile, and social applications and devices.
Polycom's Choice Partner Program is part of the Polycom Partner Network, an extensive ecosystem representing nearly 7,000 channel and alliance partners that embrace and extend Polycom's open standards-based video collaboration solutions. Together, Polycom and its partners deliver the most complete video collaboration solutions available to more than 400,000 Polycom customers. Polycom's Choice Partner Program emphasizes skills development, specialization, and other value added activities that help partners support the needs of their customers and improve the customer experience.