TECHNO Q | MANAGEMENT COMMITMENT
Management Commitment
To achieve our ambitious goals, we make customers the focus of our organization and commit to giving them only quality. Our strictly observed quality control system supports our team in delivering the best-in-class service along the entire project cycle.
Quality for our customers
The fast-paced growth of the local market has launched numerous large-scale projects under tight timelines amid a shortage of skilled workforce and other resources. In this demanding environment, quality standards require dealing with change and quick evaluations of our ability to meet client requirements, including the needed technical and human resources. We provide customized, cost-effective solutions thorough, timely, and transparent project management tools.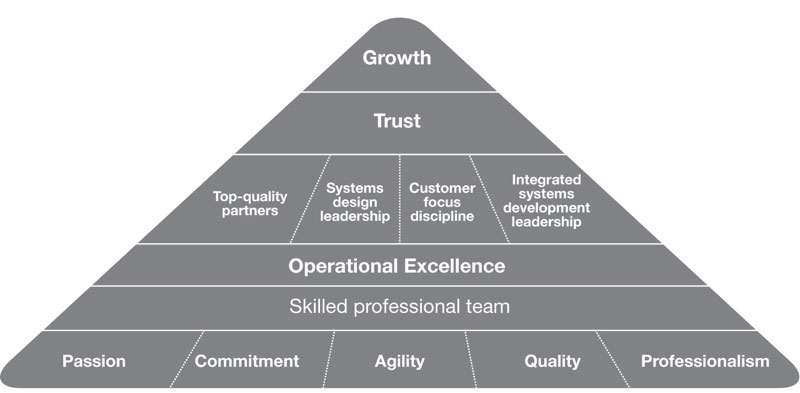 Quality for our partners
We select partners for their product and service quality and are proud to be the official local distributor of well-known brands with which we have maintained mutually satisfying business relationships for almost two decades. We ensure financial stability, management commitment, and highly skilled engineers and installers to create value for our partners and to maintain the reputation of their brands in our market.
Quality for our staff
We foster an atmosphere that encourages teamwork, creativity, and personal growth. The training required for the company's high quality standards is identified and provided to all staff and our employees are regularly encouraged to contribute to the improvement of quality.
Techno Q had ISO 9001:2015 Certification (Quality Management System) re-issued in 2023.
Techno Q obtained ISO 9001:2015 Certification (Quality Management System) in 2017.
Techno Q was the first system integrator in the Gulf awarded InfoComm International's Gold Certified Audio Visual Solutions Provider (CAVSP) Status in 2006.
Infocomms's CTS designation is awarded to AV professionals who have demonstrated knowledge and comprehension of the science and technology used in audio, video, display and systems.
Customer Relations
At Techno Q it is our aim to make sure that we meet and exceed the expectations of our customers. To help us serve you better we invite you to give your feedback which will allow us to continuously improve our services to you.
Please e-mail customerrelations@technoq.com or call us at +974 4000 9700 with your comments. Our Customer Relations Officer will respond within 24 hours.