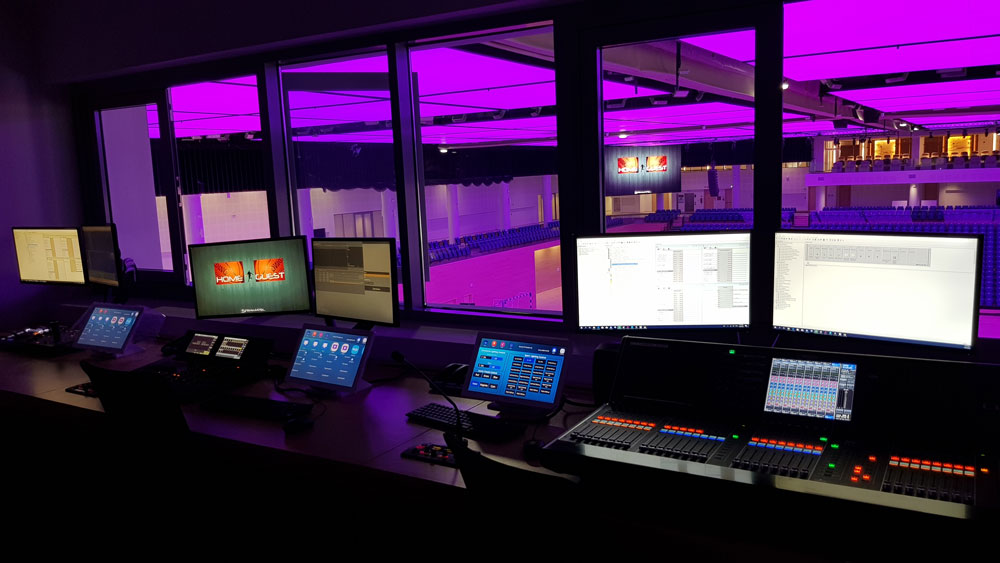 Date : July 01,2020
AVIXA's AV Experience Awards recognize AV that creates spaces that are constantly changing, adaptable, and facilitating the activities happening within them with the Best Flexible Space Award category. The 2020 winner, the new Sports and Events Complex at Qatar University, completed by AV systems integration firm Techno Q, uses innovative AV applications to create flexible sports and entertainment spaces.
Techno Q maximized the multifunctionality of the 25,500 square meter building by focusing on AV, lighting, theatrical, and broadcasting systems to help the complex seamlessly adapt to host collegiate sports, professional sporting events, graduation ceremonies, and other staged events. Because the capacity size can be adjusted to the event, the users will not feel cramped or lost in a big space.
The complex is comprised of multiple adaptable rooms surrounding an extensive Multipurpose Hall, which can host ceremonial and staged events for an audience of 5,000; sporting events for 3,200, or banquets for 900. That flexibility is achieved through retractable seating, lighting, rigging, ceiling, suspended curtains, and a portable stage. The rigging points are scalable too, up to one ton each.
"The audiovisual and lighting systems are one of kind in the Middle East and have added significant value to the organization. Qatar University now enjoys a remarkable competitive advantage, not only in Qatar, but among the whole region's educational institutions," said Ahmad Eid Elhaddad, Manager of Services and Support, Qatar University. "The Sports and Events Complex has become a vibrant location that strengthens the community life on campus."
The spacious entrance lobby can also function as additional exhibition space, due to the provision of banner tracks around the perimeter, a separate sound zone, and dedicated broadcast setup. The hall boasts the largest movable ceiling in the country, covering a 70-meter by 40-meter area with varying colors and heights. The ceiling alone is a major technological accomplishment that complies with International Basketball Federation (FIBA) height guidelines and features light diffusion uniformly across the venue to set different moods.
The master control room at the center of the mezzanine floor, with bifold windows for an unrestricted view, is operable from any location on the field, while the large LED scoreboards and numerous displays across the building are synchronized with broadcast as well as in-house video cameras.
The sound reinforcement system consists of ceiling and wall-mounted speakers, stage monitors, and full range line arrays – synced in a Dante-enabled network – to provide for a variety of audio for diverse applications. An assistive listening system is provided for hearing-impaired attendees, adapting to special needs, which is further improved with the multilanguage interpretation system via a Wi-Fi-enabled BYOD system that syncs to smartphones to increase content sharing.
In addition, a smaller training hall can be divided into four separate training fields for volleyball, basketball, handball, and futsal and welcome an audience of 2,200. A multipurpose gym flexes between fitness, martial arts, and more with dynamic audio, IPTV, digital signage, and Bluetooth interfacing.
Additional areas in the complex include meeting and seminar rooms, exercise studios, tennis and squash courts, a rehearsal/green room, and a press conference area. Flexibility was built into these spaces with touch panel-controlled instruction, language interpretation, IPTV/digital signage, broadcast, and portable furniture.
The building's AV solutions transform the space quickly and smoothly and make each type of event feel like the venue was built especially for it. The Sports and Events Complex at Qatar University is truly the gold standard for a multipurpose room.