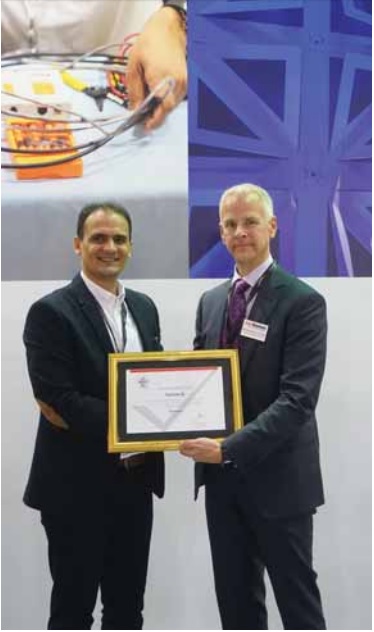 David Labuskes, InfoComm International's Executive Director and Chief Executive Officer,presenting the APEx award to Maged Amin, Techno Q's Head of Design, Audio-Visual
Recently, Techno Q has become the second AV company from the Middle East region to be honoured with the prestigious 'AV Provider of Excellence' (APEx) by the InfoComm International.
The designation of APEx recognition is taken as a big credential of professional excellence in the fieldof audio-visual and systems integration business.
APEx is InfoComm's seal of approval for companies that set high standards for employee training and certification and meet their clients' needs by delivering exceptional solutions. With this mark of distinction, Techno Q joins an elite group of about 51 dedicated integration companies and AV design consulting firms worldwide.
To receive APEx recognition, a company must demonstrate a high level of service quality and technical capability by building a team of Certifi ed Technology Specialists (CTS), adhering to InfoComm standards, and proving ongoing customer satisfaction. InfoComm's CTS certification is accredited by the American National Standards Institute under the International Organization of Standardization (ISO) and the International Electrotechnical Commission (IEC) ISO/IEC 17024:2012
General Requirements for Bodies Operating Certifi cation Schemes of Persons programme.
The Award was presented to Maged Amin, Head of Design Audio-Visual, Techno Q by InfoComm International's Executive Director and Chief Executive Officer David Labuskes at a special programme during the InfoComm Middle East & Africa 2016 tradeshow in Dubai.
Techno Q getting the recognition indicates the company's commitment to excelling in best practices in the field of audio visual systems integration, commended the InfoComm CEO.
Being a leader in the region, and for the quality standards it set for itself, Techno Q deserved to be honoured, he commented.
"It's a moment of pride for us; we are extremely glad to announce that we are now Part of the "APEx Program, " said Maged Amin. "It's a great achievement that shows we are truly invested in understanding our clients' needs and working with them to deliver high quality solutions, whilst continuously reviewing and improving the way we work."
"The APEx mark is much more than a logo; it represents a company's commitment to the highest quality and customer service," says Gaurab Majumdar, InfoComm's Regional Manager for India and Middle East. "We couldn't be more pleased to see Techno Q joining the APEx family of the world's leading AV firms."